Series single-screw extruder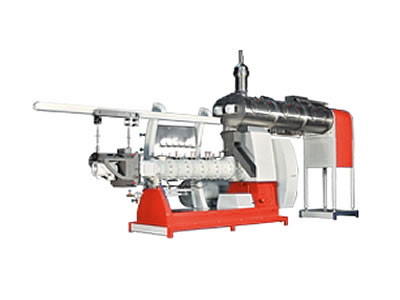 High-efficient extruder for aquafeed, food, pet food and raw material treatment.
Simple operation
Leading extrusion technology and intelligent control; by-pass for avoiding blockage; simple operation, precise and reliable.
High efficiency
DDC conditioner and optimal modular extruder screw & chamber, minimum Specific Mechanical Energy (SME) input; recoverable thermal energy, maximum energy utilization; unique suspending cutter, replacement and adjustment without downtime.
Wide production range
Controllable temperature, pressure and density thanks to modularized design and many add-ons, minimizing reconfiguration acquired.
Satisfying product quality
Uniform extruded pellets with high fat absorption, unique visual appearance, environmental friendly and sustainable.
Main parameters£º
Model
HX135C
HX165E
HX215
HX215
HX265
Screw diameter
135
165
215
215
265
Capacity(T/h)
Floating fish food
2-2.5
4.5-5
8-10
9-11
12-16
Petfood
2-2.5
4.5-5
8-10
9-11
12-16
Sinking fish feed
1.2-1.5
1.5-3.0
2.5-5.5
3-6
6.5-8.5
Power(Kw)
90/110
160
250
315
400