Alfafa pellet machine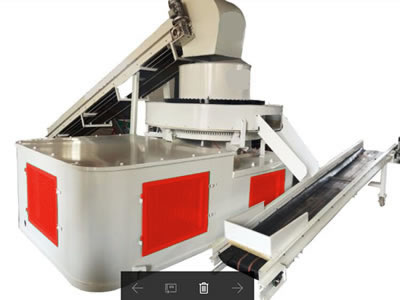 This machine have 4 parts:
1-Feeding machine 1.1KW
2-Discharge machine 1.1KW
3-Alfafa briquetting machine 110KW
4-Control cabinet.
The production capacity is 2~5T/h.
Processing range: corn straw, cotton stalk, rice straw, peanut shell and sawdust, bark, furfural residue and other biomass raw materials and coal, Chinese traditional medicine factory and bacteria waste bag. The whole machine is improved from the ring mould structure to the ring mould flat type structure, and the molding is horizontally placed to solve the problem of uneven discharge, easy to work. Improve the yield, facilitate the molding, maintenance is very convenient, reduce the energy consumption; etc...
The equipment uses reducer drive, spindle torque becomes larger, material retention time in the equipment become shorter, and production efficiency compared to previous models increase 1.5 times; at the same time, the motor power does not drop, to achieve the energy saving purposes; the overall equipment performance is more fixed, the failure rate is greatly reduced, distribution cabinet use Delixi components.
In case of overload and low load phenomenon, the machine will automatically cut off the power supply, so that mean the equipment is in safe state. Concerning the molding, the equipment uses 12 chromium molybdenum and 9 chromium 18 titanium process materials, the wear degree of the equipment is further increased, and the die life is further prolonged.
Technical parameter
Motor power: 110KW
Machine external size: 3000*1800*1760mm
Die hole number: 65
Machine quality: T5.6
Voltage: 380 V /50Hz/3Ph
Production capacity: 2-5T/h
Features
1-Horizontal radiation molding: to solve the uneven discharge, improve production, convenient molding, convenient maintenance, reduce energy consumption
2- Optimization of forming abrasive structure parameters: Reduce wear, prolong the service life of die, solve the molding problem which is not conducive to molding material, reduce the comprehensive cost.
3- The rapid molding technology: solve the equipment cold boot start receipt, is not easy to discharge, extending the processing time and auxiliary molding.
4- Automatic electronic control system: to solve the material feeding uniformity, anti - stuffy machine, reduce manual operation
5- Module thickening: made in special alloy material, wear resistance, pressure resistance, high blast, continuous work, no deformation, no deterioration, the service life is 3-4 times the original module
6- Equipment new high optimization design, easy maintenance, reasonable structure, easy operation, greatly improve yield and molding rate.
7- The whole machine is improved from ring mould structure to ring mould flat type structure, discharging uniformly, solving the problem that the upper part does not discharge, and the phenomenon of stuffy machine is avoided.
Main parameters£º
Model
9YHX-3200
9YHX-4200
9YHX-4800
Capacity(T/h)
2.2-3.0
3.2-4.0
4.0-4.8
Power(Kw)
75 KW
110 KW
132KW
Rotation of engine r/min
110
110
110
Number of die holes
48
66
75
Size of ring die mm
32¡Á30
Moisture content of finished products
¡Ü14%
Density of finished products g/cm
0.5¡«1.0 It differs when the recycled moisture time and density of biomass fibers are different
Feeding motor KW (selective)
1.5
1.5
1.5
Discharging motor KW (selective)
0.75
0.75
0.75
External size cm£¨L¡ÁW¡ÁH£©
300¡Á110¡Á140
315¡Á150¡Á120
340¡Á200¡Á160
Weight of main engine T
4
5.5
7.8